Special Events
Read our most recent Ketterman's All Ways Newsletter here.
---
Brighton Gift with Purchase
Today - March 24, or while supplies last
Purchase $75 from the Brighton Charm Collection and receive the Brighton Marquee Charm Bangle FREE.
---
FIRST FRUITS
Bring the best of the firstfruits of your soil to the house of the Lord your God. Exodus 23:19
The first business day of each month, Ketterman's has selected a philanthropy to support with 10% of that days total receipts. Come support local and International causes that help tomake our world a better place.
-May First Fruits-
Loudoun Citizens for Social Justice

Wednesday, May 1
First Fruits 2013
January - Roszell Chapel - Philomont, VA
February - Capital Caring Hospice

March - Bless an Orphan
April - Sadie Smile Foundation

May - Loudoun Citizens for Social Justice

June - Loudoun Free Clinic
July - America's Adopt a Soldier

September - Loudoun Therapeutic Riding
October - Lombardi Cancer Center
November - Life Line - 1st Choice Women's Health Center
December - Hunters for the Hungry
Check back for MORE upcoming events, or add your name to our e-mail list to receive information on events, promotions and special offers.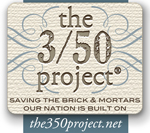 ---
Dear Friends;
We have lost a daughter, a sister, a friend. Our Hattie was a bright light in so many people's lives. We miss her immensely, words cannot express. I thought it important for our friends and family to know some of the story.
Hattie has lived with cancer for over six years now. It went undiagnosed at first, so it got a good head start on her body, but she has been blessed with excellent medical treatment and was expected to live a long and productive life, always being treated, but never being defeated. Hattie has been on a Chemo treatment for about a year now and her last set of scans were done 2 months ago. Those scans revealed that the cancer was still there but not really growing . There had been microscopic spread (just pinpoints) to the lungs, but she had had this before and the plan was to change up the chemo-no great emergency. The prognosis was good, just keep moving forward.
Since those scans, Hattie's only medical difficulty was with a bout of pneumonia which was handled beautifully with antibiotics. She was kept out of the hospital (MRSA scare) and recovered well. After recovery, she enjoyed a family trip to Disneyland. Hattie spent Easter with her families and her youngest sister's 21st birthday with her five sisters and mom. We all went to Kobe's for dinner Monday night. She saw Dillyn's wedding dress choice on Thursday and sold her brother in law and his fiancé' wedding bands on Friday. Friday evening she stopped by the farm to bring me a gift and just say she loved us.
Sunday, her heart stopped while at home with her precious husband Josh. Josh heroically did CPR until the paramedics took over and rushed Hattie to Winchester Hospital. There the doctors tried to find a reason for her heart stopping, they really couldn't find one. They couldn't understand why she was not regaining consciousness since CPR began immediately. They did scans that revealed that in the two months time since the last scans, the cancer had spread and grown enormously. Her lungs and her liver were compromised. Hattie never woke up.
Earlier that Sunday, Hattie had been short of breath, so her Dad and I had gone to see her and wait while Josh picked up some medicine for her. We kissed Hattie good bye and left her in Josh's care. She was feeling better and they ordered some food from a local restaurant. Hatti had walked to the couch, talking all the way (typical Hat). When she sat down on the couch, she stopped mid sentence. Josh took her in his arms. She wasn't breathing and had no pulse. He called to her. She smiled.
I firmly believe that at that moment, she said "good bye" to Josh and "Hello" to Jesus. The Lord in His mercy knew the extent of the cancer in her body and wanted to take her home without her ever hearing a hopeless prognosis. He gave her a gift that day, a miracle. I would have preferred a total healing here on earth, but His ways are higher than mine. I appreciate His kindness and gentleness. I am thankful that he so compassionately stopped her heart, no pain, no fear, just "Come".
A dear friend snapped a picture on the way to the hospital to be with us. She was amazed by the brightness of the sunbeams breaking through the dark clouds. When she showed me the picture, I was amazed to find a dove in the clouds. The symbol of the Holy Spirit portrayed for us, to be our sign that He is King and Hattie is safe in His arms.
I will miss my Hattiecakes. We have been showered with love from so many. Thank you for your gestures and thoughts and especially your prayers.
Be Blessed, Tammi Ketterman
Hattie's Hope is a portable children's puppet ministry. The Ketterman family led Children's Church at St. Peter's and at Purcellville Baptist Church for many years. This ministry will combine the three loves of Hattie's life, Jesus, Family and children. Contributions can be made to:
Hattie's Hope
PO Box 461
Philomont, VA 20131
---